Inspire.Motivate.Overcome.Achieve.
Our Mission:
To  enhance  student's  abilities  to  succeed  in  school  by  developing  and
 sustaining  partnerships  that  promote  academic  achievement,
 physical/mental  well  being and graduation  for  transition  into  a
 career  or  college  readiness.
At our very first Non-Profit Volunteer Fair, students were given the opportunity to speak with local agencies about the different ways they could  volunteer in our community. It was a great way for students to learn about community outreach and find ways to get involved.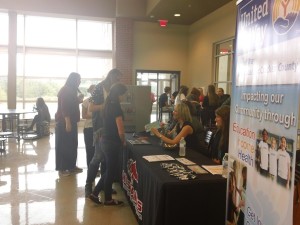 For more information about the Mustangs YSC contact Stacy Thomas at 538-4370 or stacy.thomas@mccracken.kyschools.us
Office Hours: 7:30 am – 3:30 pm  *or by appointment
270.538.4370
Mustangs Youth Services Center 6530 New Highway 60 West Paducah, KY 42001